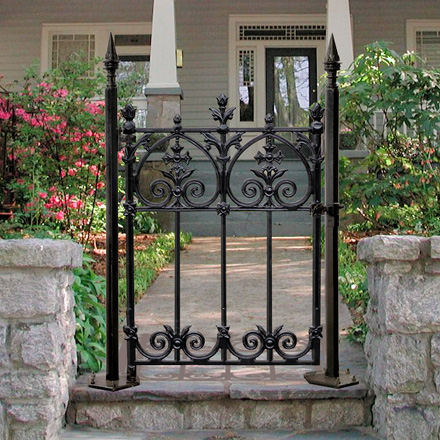 Heritage Cast Iron USA is the premier supplier of finely crafted, decorative Iron Gates in Tulsa.
Our Tulsa Cast Iron Gates match unbeatable quality to moderate cost.
In the Victorian era, manufacturers mastered high levels of craftsmanship using traditional foundry techniques.
At Heritage Cast Iron USA, we have revived this commitment to iron gate excellence, and our nine unique collections of Iron Gates are ideal for any new construction, restoration, or re-generation project in Tulsa.
There is no equal in quality or value for Iron Gates in Tulsa.
With an Iron Gate, Tulsa residents can make a bold statement about their appreciation of durability, beauty and craft.
Modelled on original 19th century designs, our Tulsa Iron Gates are a perfect counterpoint to the lightweight gates currently on the marketplace, which will be lucky to last the next 20 years.
Great Iron Gate Prices For Tulsa
Our approach to Iron Gates may be traditional, but our approach to prices is modern.
This means many people in Tulsa can take advantage of our Iron Gates built using time-honored techniques.
Heritage USA's Cast Iron Gate collection includes beautiful, authentic and faithful reproductions of Scottish, English and Australian designs which can be used in Tulsa as traditional driveway iron gates, pedestrian iron gates, garden iron gates, iron gate posts, and magnificent solid iron fence panels and posts.
Our range of iron gates is so stately and long wearing, they are ideal for Tulsa private residences as well as Tulsa public buildings and parks, urban renewal projects, historic preservation applications, domestic garden applications, museums and universities, government buildings, and churches and cemeteries.
Images from our stunning Tulsa Cast Iron collection can be viewed by visiting the links on the left.
Call now 1-918-592-1700 X 112 or X 117. Or toll free 1-877-855-4766 (IRON) or send us an email at sales@heritagecastironusa.com with any queries about our Tulsa Iron Fence for price estimations based on your requirements.
To join our email list and receive news and special offers which may not appear here click here.
CAD drawings are also available on request.
Why choose Iron Gates in Tulsa?
Cast Iron has an incredibly long lifespan and is one of the most durable and recycled building materials in the world.
Resistant to corrosion, Iron Gates are great for Tulsa street furnishings, providing an imposing entrance to any property.
By choosing from the Heritage range of solid Cast Iron Gates, you eliminate unnecessary carbon-generating energy spent re-manufacturing and replacing products over and over again.
The long-term ownership costs of Iron Gates bring unmatched value compared to fabricated ornamental iron gates and decorative steel fences.
These factors combined with our excellent craftsmanship make Iron the natural choice for your gates in Tulsa.
The Heritage family of Iron Gates is primed and undercoated, and ready for final coat upon installation.
Heritage Cast Iron USA is represented exclusively in North America by the National award winning custom ornamental metalwork at Wiemann Metalcraft and select trading partners.